Join us on the 2nd Thursday of every month at American Freight East Colonial for networking and coffee. We meet from 8:30 - 9:30am.    What happens when you mix a group of energetic business people, add unique opportunities like Monopoly, Family Feud & Real-World Thursday panels PLUS timely speakers, champion networking & connections like no other?
Would you like to try us out, contact an East Orlando Chamber associate at (407) 277-5951 or eocc@eocc.org to receive your complimentary ticket to attend the event.
This out-of-the-box thinking is our secret for success benefiting YOU. This event provides opportunities to get connected to grow your business network.
We will perk you up thanks to our coffee sponsor, Panera Bread.
Coffee Club Downtown is Free for EOCC Members and a budget friendly $10 for non-members, thanks to our Series Sponsor Duke Energy.
Are you a current student in college?  Reach out to the East Orlando Chamber for your Discount Promo Code to experience Coffee Club Downtown as our guest!
Do you want to really stand out in the crowd?
Consider sponsoring one of our Coffee Club Downtown events as a Featured Member, Latte' Lead or as one of our Game Show sponsors when they occur.  There are opportunities galore besides networking and coffee.
For more information check out the registration portal or call the East Orlando Chamber at (407) 277-5951.  The Original Coffee Club Downtown: Often imitated. Never duplicated.
Not a member?  Join us now!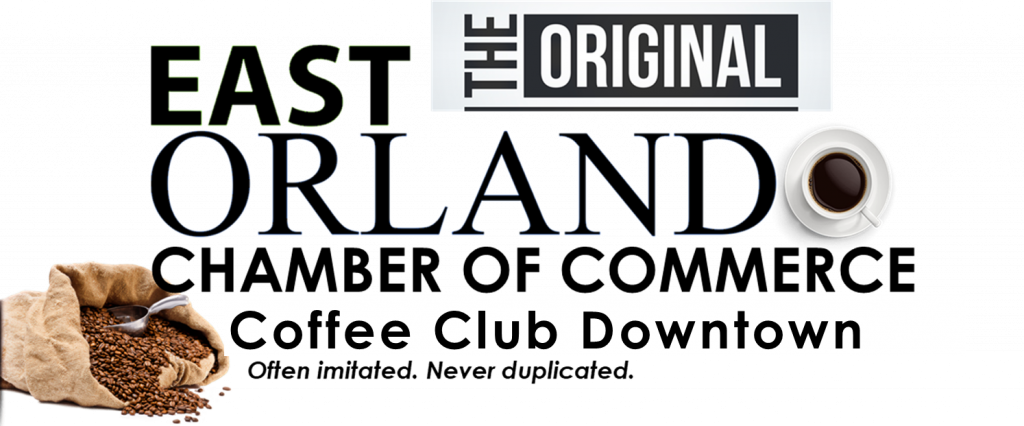 Coffee Club Downtown Sponsors
The Planning Committee has been established to create content, activites, and speakers to keep you informed and to assist you in building your business network. These Chamber members with smiling faces are here to welcome you and introduce you to fellow attendees. Resulting in you having the opportunity to connect with potential leads.