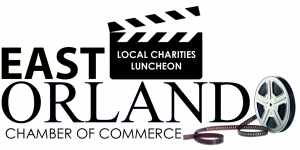 Recognizing and celebrating the good work of local nonprofit charitable organizations in and around East Orange County.
Celebrating Community Contribution
Nonprofit organizations embody the spirit and values of our community, helping individuals and families daily.  They also have a profound economic ripple effect, well beyond those they serve.
The East Orlando Chamber recognizes and celebrates their good work during the annual Local Charities Luncheon in November.  Local nonprofit charitable organizations are selected by a committee offering them an opportunity to highlight their good work, showcase their mission and raise awareness to their most immediate needs.
Luncheon attendees have an opportunity to support one or more through our "Giving Tree" fulfilling requests from one or more as a kick off to the Season of Giving.   Not only do you feel the personal satisfaction of providing a community needs, but giving back is an excellent way to promote your business, get the word out and possibly gain a deduction in the end.
Join us for the East Orlando Chamber's annual Local Charities Luncheon.  'Tis the season to share your good fortune with others.
Reserve your seat today!
Don't miss out on this luncheon, it will sell out.