Health Insurance | Benefits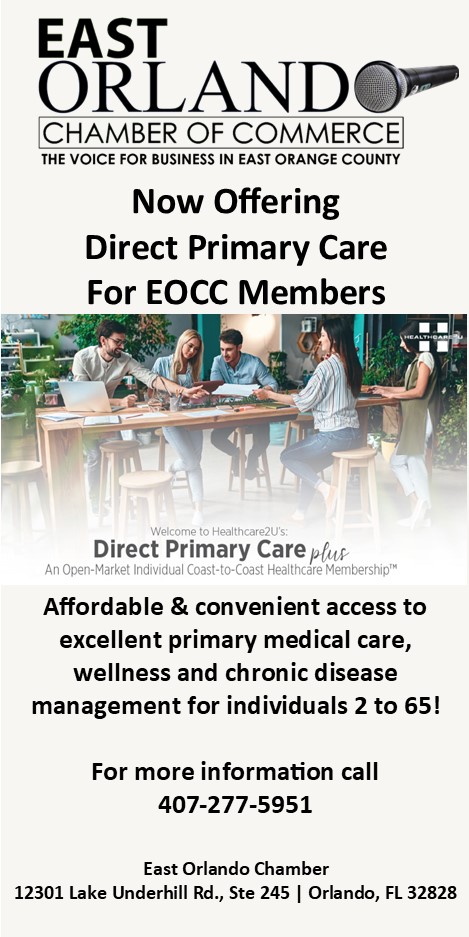 East Orlando Chamber Members have access to Direct Primary Care for YOU and Your Employees

EOCC is providing affordable and convenient access to excellent primary medical care, wellness and chronic disease management. We are offering Direct Primary Care to our members and their employees ages 2 to 65 and accept all pre-existing conditions. Through a proprietary Private Physician Network (PPN)™ across the nation, this benefit is breaking down the barriers to convenient access to quality medical care with a focus on promoting healthy living while preventing disease.
Unlimited Direct Primary Care
Unlimited doctor visits with a $10 visit fee
Unlimited urgent care visits for a $25 fee
Patient navigation center staffed by bilingual medical assistants to schedule care for employees and eligible participants
Unlimited Telehealth
Unlimited, bilingual, 24/7/365 access to board-certified physicians via telehealth for $0 out-of-pocket cost to your immediate family
Unlimited Chronic Disease Management
Unlimited treatment and management of 13 chronic disease states for the same $10 visit fee. Accepts all pre-existing conditions.
Anxiety • Diabetes • Arthritis • Fibromyalgia • Asthma • GERD • Blood Pressure • Hypertension • CHF • COPD • Depression • Gout • Thyroid
 $77 per person/month

This is a voluntary plan, employers are not required to pay for their employees and there are no minimum enrollment requirements. All employees of a Chamber Member are eligible, including PT, Contracted & 1099 employees. 
Ready to find out more?
Drop us a line today for details!
Also Offering Allstate Benefits Critical Illness, Life Insurance and Hospital Indemnity plans. All benefits are 100% customizable to meet your individual needs with optional dependent/family coverage. NO employer liability with finance, payroll or administration.
Exclusively available to EOCC members and employees of EOCC members.