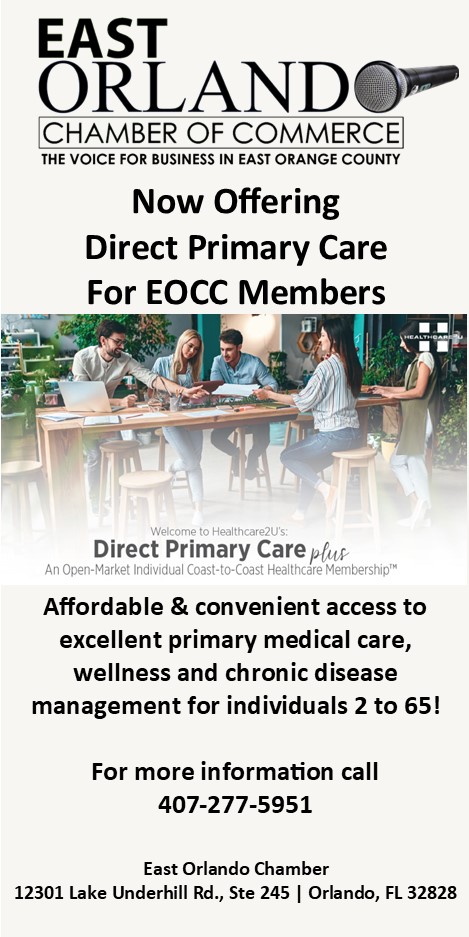 East Orlando Chamber Members have access to Direct Primary Care for YOU and Your Employees

EOCC is providing affordable and convenient access to excellent primary medical care, wellness and chronic disease management. We are offering Direct Primary Care to our members and their employees ages 2 to 65 and accept all pre-existing conditions. Through a proprietary Private Physician Network (PPN)™ across the nation, this benefit is breaking down the barriers to convenient access to quality medical care with a focus on promoting healthy living while preventing disease.
Unlimited Direct Primary Care
Unlimited doctor visits with a $10 visit fee
Unlimited urgent care visits for a $25 fee
Patient navigation center staffed by bilingual medical assistants to schedule care for employees and eligible participants
Unlimited Telehealth
Unlimited, bilingual, 24/7/365 access to board-certified physicians via telehealth for $0 out-of-pocket cost to your immediate family
Unlimited Chronic Disease Management
Unlimited treatment and management of 13 chronic disease states for the same $10 visit fee. Accepts all pre-existing conditions.
Anxiety • Diabetes • Arthritis • Fibromyalgia • Asthma • GERD • Blood Pressure • Hypertension • CHF • COPD • Depression • Gout • Thyroid
 $77 per person/month

This is a voluntary plan, employers are not required to pay for their employees and there are no minimum enrollment requirements. All employees of a Chamber Member are eligible, including PT, Contracted & 1099 employees. 
Ready to find out more?
Drop us a line today for details!
Additional Member Benefits offered to YOU and Your Employees Exclusively through your EOCC Membership
Three great packages at our Group Rates
Package 1: 
$14.00/Month
 No Co-pay/Per Household
Package 2:
$30.40 /Month*
MDLive Telehealth
Allstate Accident
WellCard
*Your package may vary based on age & number of family included
Package 3:
$58.36 /Month*
MDLive Telehealth
Allstate Accident
WellCard
Allstate Cancer
Your package may vary based on age & number of family included
Allstate Accident Plan:  Most major medical plans only pay a portion of the bills.  Allstate Accident coverage can help pick up where other insurance leaves off and provides cash to help cover medical cost and everyday living expenses like deductibles, copay's, mortgage/rent, utility bills, groceries...when an accident occurs.  The Accident benefit provides cash benefits for: ER visits, Hospital confinement, Physician Visits, Lump sum depending on the type and  seriousness of the injury and much more!
WellCard Savings Plan:  Gain access to value-added programs that can save you money every time you use the pharmacies, dental and vision care providers and much more.  Save an average of 20%-50% of dental fees and have access to over 10,500 vision providers with up to 50% savings.
Allstate Cancer & 23 Specified Diseases Plan (age 18-64):  Think about it...Receiving a cancer diagnosis can be one of life's most frightening events.  With the Allstate Cancer benefit you can rest a little easier knowing Allstate coverage pays you cash benefits to help with the cost associated with treatments & hospital confinements for cancer and 23 other specified diseases - empowering you to seek the care you need.
MDLive Telehealth:  You and your entire family living under your roof can be seen by a Florida Board Certified Dr. for over 70% of all Doctor visits and 40% of Urgent Care and E.R. visits quickly from the comfort and convenience of your phone, tablet or P.C. with all prescriptions called into your local pharmacy of choice.  No more waiting hours in line,  calling out of work / school and paying unnecessary copays and  deductibles.  For you and your entire family living under your roof for Just $14 a month for the family and no deductibles or copays  associated.
Also Offering Allstate Benefits Critical Illness, Life Insurance and Hospital Indemnity plans. All benefits are 100% customizable to meet your individual needs with optional dependent/family coverage. NO employer liability with finance, payroll or administration.
Exclusively available to EOCC members and employees of EOCC members.